---
For the holidays, every room should have candles like these. Children will be very happy.
This unique and charming candle allows you to regain the Festive atmosphere
📣📣📣The Best Gift You Should Get Form and Send to Your Friends /Family
When the glitter liquid rotates, its color changes beautifully. The glitter aesthetic is magnified thanks to the LED lights. It also mimics the warm and cozy ambient provided by a festive candles!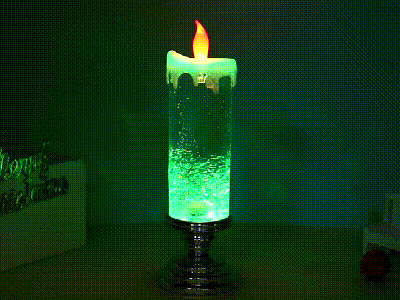 Colour Changing: As the water swirls around, a color-changing LED illuminates the water to create a dazzling festive feature. The colors change slowly between green, yellow, red, pink, transparent, and blue. Whilst the replica flame glows a flaming orange color.
no melted candlewax that can damage pieces of furniture, LED flame gives off a lovely warming glow.
It will surely make your Holiday with friends and family unforgettable.
Features of color-changing LED candlelight:
No complicated assembly - no complicated wirings or assembly. After adding water, just insert the USB cable or install the battery and turn it on, and you're good to go.
Multiple lighting modes - changes from one beautiful lighting to another, swirling water illuminated by color-changing LED.
Creates a warm atmosphere - exchanging gifts will never be the same with the unique atmosphere this will provide.
Specification
Material:Plastic
Size: 10.2 x 3.1 inches
Power supply: AAA battery or USB(Battery is not included)
Voltage:4.5V
Four Colors Set : Gold, Silver, Blue, Red
ALL Colors Set : Gold, Silver, Blue, Red, Purple
1 x LED Candle (With Pedestal)
1 x USB cable
TIP: 1.The lace on the candle is a DIY ornament, the packaging does not come with
2. Due to different production batch,the color of the top and the base of the candle may be differentDue to different production batch,the color of the top and the base of the candle may be different