TRANSFORM YOUR GARDEN INTO A COMFORT OASIS
Every blade of our windmill is designed to rotate in different directions. The ball-bearing construction allows it to spin silently.
Spruce up your garden and give it a magical atmosphere instantly with the handmade magical windmill.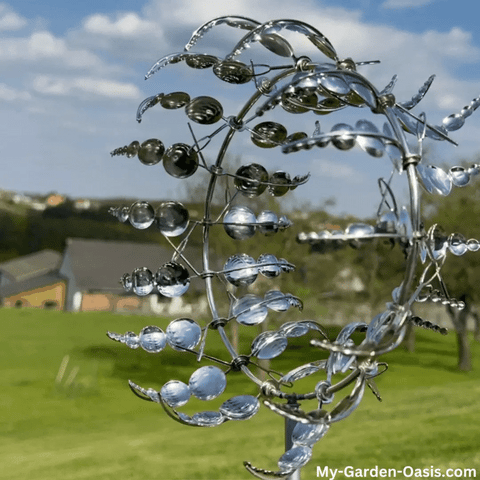 THE DISTINCTIVE ORIGINAL
A unique windmill with 18 handmade, balanced blades that revolve around a circular axis. Rust-free and resistant to wind speeds up to 130 Km/h.
Relaxing to watch and an eye-catcher in the garden. It resembles a metal jellyfish peacefully floating through the sky. Perfect for the porch or garden, and sure to attract all the neighbors' eyes.
WIND AND ALL-WEATHER RESISTANT
The magical metal windmill features a multi-colored, rust-free brushed finish and a sturdy stake at the base, making it robust and durable for windy days.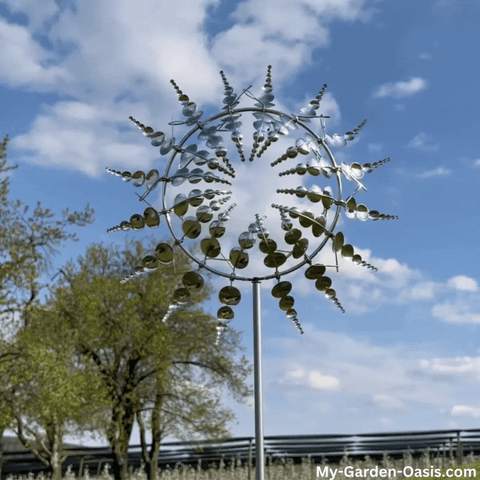 EASY INSTALLATION
This garden decoration is easy to assemble and requires no additional wiring. Place it using the included metal stake wherever you like and enjoy your unique decoration.
AN IDEAL GIFT FOR EVERY GARDEN ENTHUSIAST
With its unique construction and fascinating magical ambiance, our windmill is sure to be a hit with your friends and family members.

HANDCRAFTED WITH LOVE
All our windmills are handcrafted with love, making each one a unique piece. Product details: Material: Metal with rust-free coating. Color: Silver.
• Dimensions (Length * Width = 93 cm * 31.5 cm)
• Weight: 250 grams
• Material Used: Metal with rust-free coating