Gun Massager

This personal handheld massager gun helps you overcome muscle soreness, and relieve body fatigue, combat stiffness, and spasms. Just enjoy the deep tissue massage whilst relaxing at the home, office, or, as it's portable, on a long trip.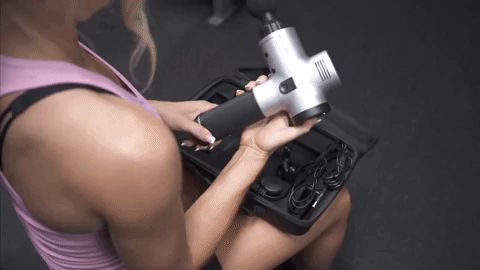 Relieves Muscle Soreness

Helps relieve muscle soreness and stiffness with 4 interchangeable head attachments. Promotes circulation improves range of motion and helps accelerate warmup and recovery.
Quietest Massage Tool

Using unique quiet glide technology with a high-torque motor and three adjustable speed settings delivering up to 3, 200 percussions per minute.
Adjustable Intensity

This massage gun has 3-speed strength levels, which allows you to get the right and appropriate amount of pressure to relieve your muscle pain.
Level 1ㄧ20hzㄧmuscle awakening
Level 2ㄧ30hzㄧfascia relaxation
Level 3ㄧ40hzㄧdecompose lactic acid
Specifications:
Color: Black / Carbon Fiber / Silver
Type: Lcd Version
Stroke: 12 Mm
Frequency: 1400-3200 Rpm
Rated Input: Ac 100 ~ 240v 50 / 60hz
Charging Time: 2 Hours
Number Of Massage Heads: 6
Battery Capacity: 2400 Mah
Speed Adjustment: 30-speed Control
Rated Battery Voltage: Dc 12v
Package Size: 14*20*5 in
Package Include:
1 x massage gun
4 x massage heads
1 x power charger (110v-250v)
SHOP WITH CONFIDENCE