It is introducing the LED Bud Cordless Table Lamp, a perfect fusion of exquisite beauty and high functionality. With its trendy design and myriad of colors, it breathes life and vibrancy into your space. Its distinctive holder design ensures a smooth and even glow, eliminating harsh shadows and amplifying your room's overall mood and visual comfort.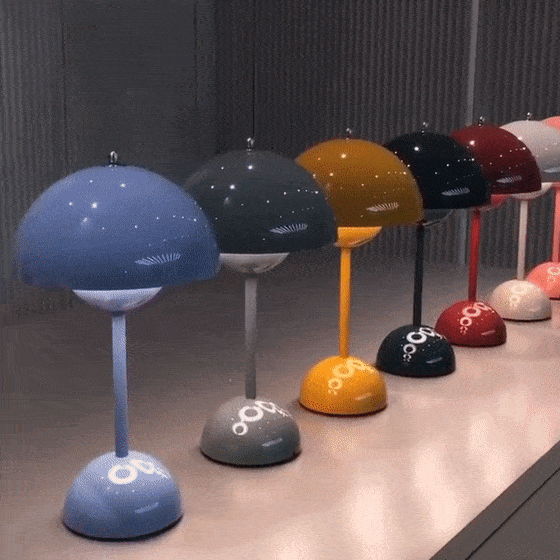 MATCH YOUR MOOD
The LED Bud Cordless Table Lamp offers a rich selection of vibrant hues tailored to your mood or event. Whether setting the tone for a soothing evening or sparking vitality at a lively gathering, this lamp adapts seamlessly to your desired ambiance.
ICONIC DESIGN
Drawing inspiration from the peace, love, and flower power of the '60s, this table lamp merges timeless charm with practicality. Its playful design elegantly graces a desk, a bedside table, or, more ideally, a nightstand. Its subtle sophistication enhances your décor without overshadowing other elements, making it an excellent addition to any setting.
TAILORED LIGHTING
Beyond being versatile and vibrant, the LED Bud Cordless Table Lamp offers warm, white, and natural light tones. Its dimmable design caters to diverse lighting needs, from focused reading light to a calming ambient glow. This lamp is up for the task, no matter your lighting requirement.
CONVENIENCE & LONGEVITY
Revel in the luxury of cordless, rechargeable lighting. A single charge delivering up to 12 hours of maximum brightness creates a cozy indoor or outdoor atmosphere. The energy-efficient design promises years of reliable lighting, allowing you to enjoy its pleasing glow anywhere, anytime, with a simple charge.
SPECIFICATION
Material: Polycarbonate (PC), Steel
Color: White, Black, Red, Yellow, Green, Pink, Gray, Gold, Silver
Size: 18×30cm / 7×11.8in
Weight: 1kg / 2.2lb
Voltage: 5.0V, 2A
Operating Time: 12 hours
Charging Time: 4 hours
Light Output: 104 lumen
CRI: >90
Color Temperature: 2700K
LED Lifetime: 50000 hours
Dimmability: 3 levels (100% – 50% – 20%)
Certifications: CE, CB, IP44, Class III