❄Don't like getting out of the shower on cold mornings? Are you feeling that cold breeze when working or trying to relax?

If you hate being cold but you don't want to raise your heating bill... you need to read on.
it's a super small, powerful heater that consumes much less energy than regular heaters. I know what you're thinking…there's no way a heater can actually heat a whole room quickly, safely, and for cheap. But I'll tell you that you are in for a pleasant surprise when you see what this little thing can do.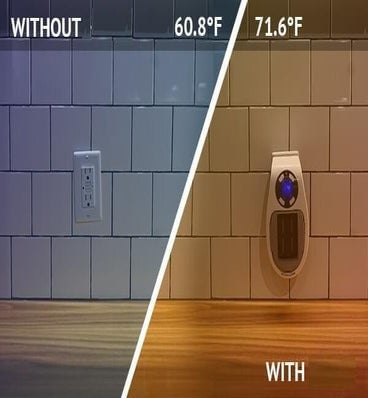 It is smaller than a football and plugs directly in the wall, so there's no cables and it takes almost no space. And the instaheat technology allows it to be so quiet that you will forget it's there!
FEATURES:
Small And Portable:

4.3" x 

4.3

" x 7.1"

compact size makes it easy to carry it around wherever I want without any wires. It doesn't take up floor space or have a cord laying on the floor to trip on. Modern look make it blend well in a living room or bedroom or other areas of the house since it's not a big eyesore like a space heater
Digital Thermostat: Unlike most space heaters just have options for low medium and high, but this gives you actual degrees. Ability to be adjusted by the desired temperature from 60°F to 90°F. Set the thermostat to your desired temp and it turns itself on and off to maintain that temp. Outer surface stays cool
Quiet And Fastheating: Extremely quiet to heat up 100 square feet room well. It is for smaller places like offices or dorm rooms desk table indoors. Use it at home when you don't want to heat up the entire house with other centralized heaters. It's very quiet so it won't keep you awake at night
With Led Display And Timer: Press the timer button allows you to scroll through 1 and 12 hours in 1 hour increments. For auto power on timer, ensure the heater is turned off, press the Timer button until the led display shows the number of hours you want For auto shut off timer, ensure the heater is turned on, keep pressing the Timer button till it reach your desire time
How Does the Heater Transform Cold & Chilly Rooms Into Warm & Comfortable Ones?
The secret is in the secret technology. The ceramic element stays warm 30% longer so it doesn't have to use as much power to re-heat over and over again. The fan inside HeatZo then sucks the air out through the hot ceramic element and distributes it evenly throughout the room!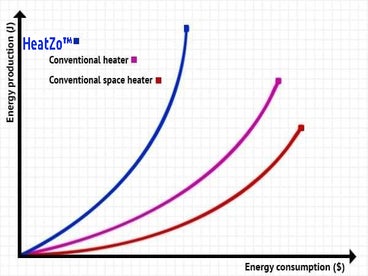 As you can see, the Heater uses less energy to create more heat than traditional heaters. Thanks to Instaheat technology, it can heat a room up to 250 Sq Ft. and make it 37% warmer in a few minutes, for just pennies. THAT is what we call efficient!
However, what's really special about IT is that it's been made with the average consumer in mind. One of the amazing features it has is the programmable timer - so you can program it and warm up your bathroom before you wake up for example.
Also, the remote controller makes it super easy to stay cozy and adjust the temperature. They also kept safety in mind in the creation process - they added a sensor that makes IT stop completely if it becomes too hot (for any reason). It has many more features, check availability to learn more about it!
SPECIFICATIONS:
Plug: UK
Dimension: approx. 4.3" x

4.3

" x 7.1"
Operating Modes: High and Low
Package Include: 1 x Wall Outlet Electric Heater